21 Feb 2023
Non-Ethanol fuels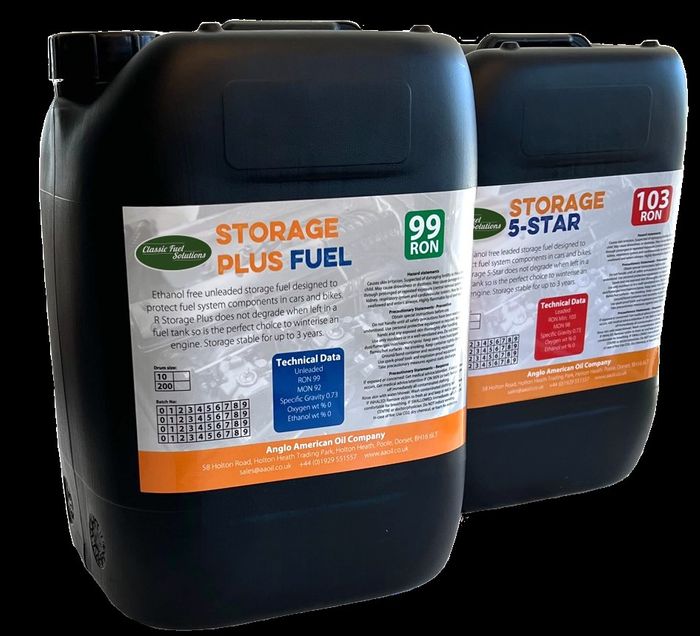 Non-ethanol fuels under a new name
Anglo American Oil Company is extending the line of high performance fuels under the newly acquired Classic Fuel Solutions brand name. Classic Fuel Solutions are well known for their classic motorcycle leaded racing fuel - the CFS Formula 105, an ethanol-free leaded 105 octane race fuel blended to provide a similar distillation curve of what was achieved by blending 100LL avgas with 5-star pump fuels in the 60s and 70s.
With the procurement of the Classic Fuel Solutions brand Anglo American Oil Company has renamed the R Storage Plus and R Storage 5-Star to CFS Storage Plus and CFS Stoarge 5-Star. Both fuels are guaranteed ethanol free and designed to keep fresh for up to three years. The Storage fuels have been hugely successful thanks to offering themthrough Anglo's over 500 garden machinery dealer network (that is selling their Aspen alkylate garden machinery fuel) at no extra freight cost.
Combining the success of the Classic Fuel Solutions brand and the Storage fuels Anglo American's MD Anders Hildebrand is confident that more users will turn to use the CFS Storage fuels in bikes, boats and cars to avoid damage caused by ethanol blended pump fuels.
Availabe in convenient 10 litre cans or 200 litre drums for larger collectors the fuels are in stock for immediate delivery.