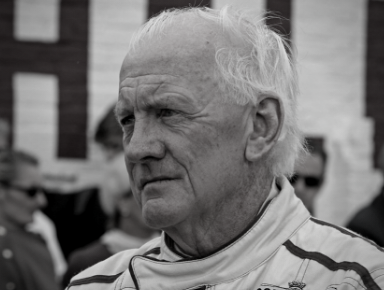 John Fitzpatrick
John Fitzpatrick raced professionally for over 20 years in Touring Cars, Sports Cars and GTs and was considered one of the best Porsche drivers of his era. He began his career driving Touring cars in the BSCC and ETCC, winning the British Saloon Car Championship in 1966. First it was Minis, then Ford Anglias and Escorts; BMW CSs and then Porsche 911s. He then became renowned for his expertise at driving the German machines.
John was crowned European GT Champion in 1972, and then again in 1974. He moved to the United States in 1980, driving for Dick Barbour Racing, capturing the IMSA Camel GT Championship in the process. He won the prestigious Porsche Cup in 1972, 1974 and 1980. His most prestigious wins were the Daytona 24-hours, Sebring 12-hours and the Bathurst 1000kms in Australia.
In 1981, he moved from driver to team owner-driver, with some success and spent eight years as Secretary of the British Racing Drivers Club and Director of Silverstone Circuit.