Bloody Mary to feature on FBHVC stand!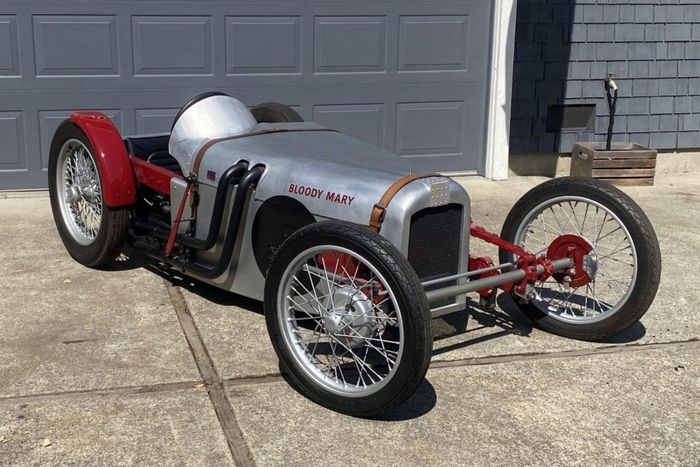 Many enthusiasts will remember Bloody Mary, a unique sprint and hill-climb car created by John Bolster, Technical Editor of Autosport magazine and his brother, Richard in the 1920's. Their special was constructed around an ash chassis frame with chain drive. It evolved over many years and by 1934 was powered by two 996cc JAP engines bought for £12 10s each. These engines were later modified to run on methanol fuel. The front springs are from a GN cyclecar and the front brakes and wheels came from a 1928 Austin Seven.
The Federation of British Historic Vehicle Clubs is delighted to display an iteration of Bloody Mary for the 21st century! Constructed over the last three years in the United States of America and featuring handcrafted aluminum body panels over a white ash wood frame. Power comes from a 1,450cc Harley-Davidson V-twin paired with a five-speed manual gearbox.
Painted wire wheels from a 1929 Austin and a 1949 MG are mounted with two-eared spinners, and wear 3.25-19 Duro front tyres as well as 4.50-19 Excelsior rubber at the rear. The front suspension replicates the original car with quarter-elliptic leaf springs supported by friction dampers and vintage Triumph shock absorbers. Leaf springs are also used at the rear.
The twin-cam 1,450cc V-twin was sourced from a 1999 Harley-Davidson Dyna Wide Glide and is equipped with a single 40mm CV carburettor.
Positioned alongside the British Racing Motors stand, enthusiasts will have plenty to capture their interest!